News (Updated July 30, 2019)
Fiber-Tech Supports Local Riders to Find a Cure for Cancer
At Fiber-Tech we are doing more to support our employees and our community.  This year we contributed through our own David DaRif and the 14 riders from the Washington Court House, Ohio area as they prepare for the 2019 Pelotonia in Columbus, Ohio  The Washington Court House riders have been participating since 2016 and together have raised 0ver $350,000 for Pelotonia through their fundraising efforts and their kickoff event that was held at Streetside 62 on Saturday July 27th.  We are proud of David and his fellow riders and the amazing fund raising totals they have generated. 
Founded in 2008, Pelotonia was established with the objective to fund life-saving cancer research. Pelotonia is a three-day experience that includes a weekend of cycling, entertainment and volunteerism. Through its first ten rides, Pelotonia raised more than $184 million for cancer research.  Pelotonia directs 100 percent of every rider-raised dollar to cancer research at The Ohio State University Comprehensive Cancer Center – James Cancer Hospital and Solove Research Institute.  For more information go to www.pelotonia.org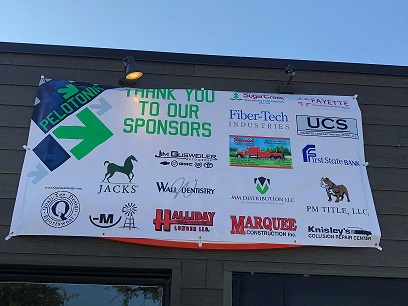 Fiber-Tech Awards
ACE Award
Fiber-Tech Industries, in collaboration with West Virginia University, received the Most Creative Application ACE Award at Composites 2007. The Award Winning Entry, a Mine Safe House, was constructed using high strength, light weight walls manufactured by Fiber-Tech. Fiber-Tech technology allows the manufacture of large, seamless parts; and the bonding of high performance resins to a variety of specialized cores. This capability was a key factor in the success of this Award winning design. JY
Clean Air Award
Every year, Spokane County, Washington recognizes businesses that have been successful in programs that are designed to improve the Environment. One of the major awards given is the Clean Air Award, sponsored by the Spokane Regional Clean Air Authority. In 2010 Fiber-Tech Industries received this award in recognition of our successful process and material improvements that resulted in a greater than 50% reduction in our potential to emit. This was achieved without an increase in our carbon footprint.