Request for Quote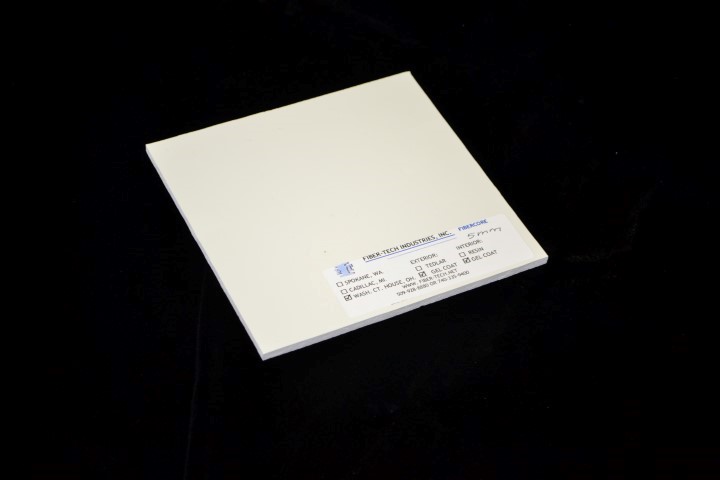 FiberCore® Fiberglass Reinforced Panels
All FiberCore® fiberglass composite panels are manufactured by Fiber-Tech's proven proprietary process.  A combination of woven roving, chopped strand mattes, core mattes and veils are molded on large lamination tables and cured under heat and pressure. We utilize thermoset polyester resins to wet-out multiple layers of woven roving fiberglass and reinforced mattes/fabrics in a "heat accelerated vacuum assisted infusion" process producing one of the industry's largest rigid seamless FRP panels.  
All of Fiber-Tech's FRP panels are custom manufactured and cut to the customers' specified dimensions.  Standard FiberCore® panels are available 3 mm to 5 mm thick and in sizes up to 10 feet wide by 58 feet long. Fiber-Core® does not rot and is unaffected by most solvents and chemical agents, therefore extending the life of the FRP panel.
You can trust a company with over 45 years of fiberglass panel manufacturing experience.
All of Fiber-Tech's FRP panels are custom made, cut and shipped to your individual specifications, therefore minimizing waste for your special application.  Fiber-Tech's ability to produce large flat fiberglass panels permit easy and rapid installation, saving considerable project time and labor dollars.
FiberCore® Fiberglass Reinforced Panel Specifications
Thickness Options
3 mm / 4 mm / 5 mm finished thickness.
All thicknesses tolerances are +/- 10%
Panel Sizes
All our FRP panels are custom manufactured and cut to the customer's specified dimensions.  Standard panels are available in sizes up to 120" wide x 58' long.
Exterior Gel Coat
15 mils (+/- .003") of a smooth or embossed, high gloss or matte finish designed to offer superior weathering characteristics and resistance to UV degradation. All standard Fiber-Tech gel coats are formulated to offer maximum flexibility, are acid and alkali resist and will readily accept decals and most paints.
Interior Finishes
Standard – Clear film: A thin clear film is laminated to the interior surface of the FRP panel during the composite panel production process. This heat sealable film covers typical porosity and provides a surface which is considerably easier to clean than raw resin surfaces.
Optional – Resin Surface: For applications where sanding, laminating, or bonding to the interior surface of the FRP panel is required; upon request, Fiber-Tech will eliminate the use of the clear film. A white pigmented polyester resin will be the final interior finish and will contain porosity on the surface.
Optional – Gel Coat: Where additional protection against moisture penetration is desired, Fiber-Tech will add 15 mils (+-.003") of high gloss gel coat to the interior surface of the FRP panels on special orders.
Contact Fiber-Tech Today for FiberCore® Fiberglass Reinforced Panels
Looking for the right fiberglass reinforced panels for your application? Contact Fiber-Tech today. 
Call the "Composite Panel People"
at Fiber-Tech Industries today!
Download Information Sheet